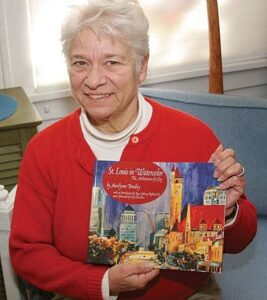 St. Louis in Watercolor: Living History in the Gateway City
Friday, November 6, 1:00-2:00 CT
Artist Marilynne Bradley has spent half a century immortalizing and updating treasures of St. Louis landmarks in the vibrant pigments of watercolor. This collection of local scenes beautifully captured in paint documents the pleasures of the good life in St. Louis: the applause of a good play, the satisfaction of a gourmet meal, and the beauty of St. Louis' unique architecture. Writer Jennifer Grotpeter captures the essence of the image in animated memories and offers the reader a connection with the culture of St. Louis.
Class Fee: $5/one-time lecture
Registration Required
Use the link below to go to our program page. You can choose one of two ways to register: 1) online using our online registration portal or 2) download a form, print it and return it by mail. You will receive a registration confirmation with login information. Questions? Call 314-395-0988.