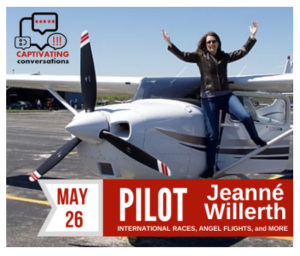 Presented by Shepherd's Centers of America
Jeanné loves to fly and when she isn't teaching others, she is in the air for both fun reasons and important missions. An award-winning pilot/flight instructor, Jeanné Willerth competes in international air races for fun, and actively volunteers to fly for emergency-related, acute-need flights that help others with her passion.
Jeanné holds both undergraduate and master's degrees in mathematics. In 2019 Jeanné was the only pilot from Missouri to fly in the International Air Race Classic for Women. Her mother was a Powder Puff Derby Air Racer in the 1960s–she taught Jeanné how to fly!
Meet Jeanne on Tuesday, May 26, 2020
1:30 pm ET/12:30 pm CT/11:30 am MT/10:30 am PT
After registering, you will receive a confirmation email containing information about joining the class via Zoom.