Presented by Betsy Solomon, MA, Art Historian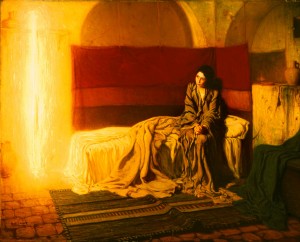 Art history lecture series, topics include: Images of the Virgin Mary, The Last Judgement: Michelangelo and the High Renaissance, and a guided tour of the Saint Louis Art Museum for the last class session. $4/week or $8/3 weeks, to register call 314-779-9231 or complete registration form and return it to the Shepherd's Center office, see link below.
Tuesdays, October 27-November 10, 10-11
Harrison Avenue MBC Annex, 347 S. Harrison, Kirkwood, MO 63122
Henry Tanner, The Annunciation, 1898, one of the featured paintings in the class, pictured at right.