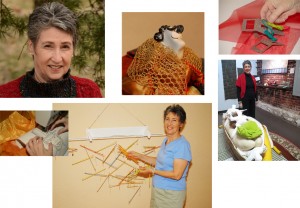 Find Your Personal Muse Workshop: For Beginning and Advanced Artists
Kacey Cowdery, Artist
Fridays, November 4 and 11: 10:30-12:30; 2-week workshop
Drawing a blank? Too many good ideas? Can my work rise to another level? Where do I begin? Start by finding a subject that moves you in order to develop a concept with importance to you, your history, and your life. Learn basic Color Theory, make "Easy Art", and come away with tools to make art that is meaningful to you and to your viewers. Materials you will need: a writing implement that you enjoy using, both a writing tool and an art tool, paper to take notes, one or more magazines to be shared and torn up, images that appeal to you (three images are to fit on 8 ½ x 11, with space around them), folder to hold 8 ½ x 11-sized papers. $16, registration required, go to the programs page to download a full schedule.
---
Living Life with Vision Loss Self-Management Workshop
Monica Perlmutter, OTD, OTR/I, SCLV, Washington University
Friday, November 18, 10:30-12
Challenges presented by vision loss can become an obstacle in everyday tasks such as cooking or paying bills, leisure activities such as reading or watching TV, and simply our ability to be independent. This one-time workshop will include activities, discussions and presentation that will help participants safely and independently see and do the things they want. $4, go to the programs page to download a full schedule.