Guest Speaker Series at Webster Hills UMC
Begins September 23, 9:30-10:20 with Exploring the World, Abroad and Close to Home, Laura Herzberg, Founder, Simply River Cruises
Alive Inside: Documentary Film Screening at Webster Hills UMC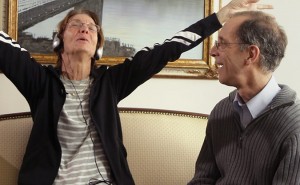 Friday, September 23, 10:30-12:30
A Film by Michael Rossato-Bennett (2014)
Alive Inside is a joyous cinematic exploration of music's capacity to reawaken our souls and uncover the deepest part of our humanity. Filmmaker Michael Rossata-Bennett chronicles the astonishing experiences of individuals around the country who have been revitalized and awakened by the simple act of listening to the music of their youth. Sundance Film Festival Winner.
iPhone Workshop: I Didn't Know How to do That at Harrison Avenue MBC
Presented by Vickie Fieman, Senior on the Fly
Tuesday, September 27, 10-11
iPhones are a very convenient tool – if you know how to use them. Bring your iPhone and learn the basics in this hands-on workshop.
click here for a complete schedule of fall programs and all the details